By CHRISTOPHER JAMES SHELTON

(AUTHOR'S NOTE: This is an excerpt from my 4th book: "My LIFE Before DEATH (a boxing historian memoir)" available at Amazon for $6.99.)
NBC announcers: Marv Albert, Sugar Ray Leonard and B.J. Flores
Prichard Colon: 16-0, 13 KO's – 23 years old, 6'0 – enters bout at 158 pounds
Terrel Williams: 14-0, 12 KO's – 31 years old, 6'0 – enters bout at 155 pounds
Prichard Colon's two previous bouts were dominant knockouts. A 5-time annual Puerto Rican champion it's impossible as a boxing fan not to be impressed by his superb technical skills. On August 1st, 2015, Colon faced Michael Finney for a 6-round junior middleweight battle in Brooklyn. Through 2013, Finney was the rising star with a record of 12-0-0, 10 knockouts. Since then, Finney had been reduced to the never-to-be who was a good set-up opponent for rising stars. Following a knockout loss to Jaime Herrera, Finney had been set against undefeated boxers. 23-years old, his record facing Colon stood at 12-3-1, 10 knockouts. Colon, 22-years old, was 14-0-0, 11 knockouts.
Colon bounced off fresh legs with good footwork. He remained patient while backing. He utilized his reach advantage with left jabs which consistently nailed their target. Finney tried to step forward and punch but nothing landed. By the 2nd round, a Colon right-hand landed squarely to chin. Colon followed with several hard punches until a right to face sent Finney to canvas. The referee counted '8' – looked into Finney's eyes – then hugged him as he waved the bout over.
On September 11th, Prichard Colon battled 37-years old former WBA Super Lightweight Champion, Vivian Harris in a 6-round bout at San Miguel de Allande, Guanajuato, Mexico. On October 19th, 2002, 24-years old Harris won the title versus Diosbelys Hurtado. After three successful defenses (25-1-1, 17 knockouts), Harris lost the title via 7th round knockout versus Carlos Maussa. Following a 12th round unanimous decision over a talented, Juan Lazcano, the 29 years-old Harris was 28-2-1, 18 knockouts. Boxing is a brutal vocation so upon facing Colon his record was 32-11-2, 19 knockouts. Colon, 22 years-old, was 15-0-0, 12 knockouts.
Vivian Harris told journalists before the bout he felt disrespected as a "boxer on his way down" but continued with his career because he had family to feed. Harris knew he was being fed to lion in the up-and-coming rising, Prichard Colon. Harris tried to be patient with Colon preserving energy while throwing few punches. Colon was respectfully cautious, bouncing on legs while patiently flicking and landing left jabs with reach advantage. Harris produced little to no offense through three rounds. During the 4th round, Colon landed a hard right-punch to chin which wobbled Harris. Colon followed with combinations until a right-punch sent Harris to canvas. While Harris lay on his stomach, referee kneeled and counted through '9' – KNOCKOUT – waving bout over as Harris attempted to rise.
The NBC prime-time television match-ups by early October were Andre Dirrell versus Blake Caparello as the undercard to Lamont Peterson versus Felix Diaz. Dirrell pulled out of the bout for medical reasons, with rising star Prichard Colon as the replacement. Terrel Williams, despite being undefeated, was mostly an afterthought opponent.
Head shots
I asked Dennis Taylor, writer and publisher for Ringside Boxing Show, to view 2012 Terrel Williams' bouts which I sent. They had some consistencies – of which is most troubling – is Williams' propensity for hitting opponent's hard to back-of-head. Dennis Taylor: "Yeah, it's hard to say whether it's a deliberate pattern of behavior, or just a flaw in his fundamentals."
He has two right-punches which nail and injure a guy to back-of-head: (1) A looping right half-hook which misses the head – but following an opponent's head movement – sort of boomerangs back illegally. (2) While in clinch – sort of frustrated and pinned – he quickly lands a short, illegal right to back-of-head. These are both illegal punches in his arsenal.
Terrel Williams' illegal blows don't appear to be "rabbit-punches" (intentionally meant to maim an opponent) for he has a fine jab – great punching power when he lands clean – and dominates bouts which are usually Los Angeles 'bums' with 2-9-0 or 1-4-1 lifetime professional records. He is a blue-collar, five days and forty hours a week forklift operator; trying to improve his life with visits to the boxing gym following a tiring shift. He awakes and goes to bed early. He is a tall welterweight who worships the "technician side" of Floyd Mayweather Jr. while dreaming to be the next Tommy Hearns. He admirers boxers, but views himself as a slugger. Because of bad breaks – and this and that – a talented guy who some manager or trainer should have taken notice spent most of his mid-to-late 20's as a lowly professional club fighter. Heading into 2015, he hadn't fought at all in 2014; the 30 years-old boxer had 12 professional bouts versus opponents (NONE with a winning record) whom BoxRec credits with a collective 56-102-6 legacy.
A rough, foul-laden fight
Three judge's criteria: (1) Clean punching. (2) Effective aggressiveness. (3) Ring generalship. (4) Defense.
Referee Joe Cooper to pugilists (Colon/Williams): "Okay, gentlemen, I expect you to protect yourselves at all times. If there's a knockdown, go to the furthest corner and wait for the action – and I'll point in that direction. Watch your holding! Watch your pushing! LET'S SHAKE HANDS!"
NBC's rules: (1) No standing 8 count. (2) No 3 knockdown rule. (3) Only referee can stop the fight. (4) Fighter cannot be saved by the bell in any round. (5) Fight official after 4-rounds.
ROUND 1: Clean fight for 90 seconds – both stepping forward and trading punches – slugging by Williams with beautiful boxing by Colon. They are aggressive – Colon complains to referee Cooper near end of round about back-of-head punches. Williams lands another back-of-head punch which concludes round. It's a good, entertaining round with little clue that the bout would spiral downward.
Announcer Marv Albert references Colon's complaint of being hit to back-of-head. It is probably a matter-of-fact round for NBC television personnel. The bout's supposed to be a mismatch with Colon winning easily. The announcers cannot help but sort of biding time for the 'real' bout of the evening – the main event: Lamont Peterson versus Felix Diaz.
ROUND 2: With remaining Colon backs Williams in clinch – Williams taps/pops weak punch to back-of-head…. At this point, referee Cooper should have separated pugilists with some sort of warning to Williams about back-of-head punches. They do not appear to be intentional, but are persistent nonetheless. Colon appears to be frustrated but must continue fighting.
It is an action-packed bout – not overtly dirty – but after a couple more blows which land to back-of-head – Colon once again looks to referee Cooper with 20 seconds remaining seeking relief from illegal punches.
ROUND 3: With remaining it is still a good bout – fairly even – with Colon slightly ahead in action but farther ahead on technical judging. Colon backs Williams up while the latter pushed down on back-of-head. Referee Joe Cooper intervenes. Good round for Colon who leads 30-27 – but it's a close battle. It is a better bout than most expected.
Terrel Williams is truly living the fictional 'Rocky Balboa' dream. He was selected from obscurity only three weeks earlier. He looks good as a welterweight – not really using a jab – but aggressively throwing punches with both hands while stepping forward. Prichard Colon might be wiser being more defensive while boxing this opponent – but he is technically superb. The big difference is the cleanness of Colon's punches – which makes him appear as a student well trained – while Williams has a lower-club level aggressiveness whose punches are slightly wilder and rarely land clean.
ROUND 4: Williams lands a hard, clean punch to chin with remaining which hurts Colon. The latter appears to be tiring. Williams wins the round and appears to be taking control.
Prichard Colon's public persona is handsome, optimistic, amiable, likeable Puerto Rican professionally-trained boxer while Terrel Williams appears as an angry, disrespected, blue-collar, Los Angeles forklift operator. But these can be illusions. Williams probably has a softer, kinder side while Colon can be enraged.
The bout has a weird vibe from NBC's announcers. Marv Albert appears slightly bored, matter-of-fact but observant. B.J. Flores is excitable while clearly happy to be there, but doesn't have much substance to add. Sugar Ray Leonard is sedate bordering on non-existent. This is an excellent bout except the back-of-head grabbing and punches by Williams. Colon is clearly frustrated as an upset is in the making. Williams is a tougher foe than had been expected and his reckless tactics are allowed by referee Cooper.
ROUND 5: Within first minute Williams has tagged Colon cleanly twice to face – the latter slightly dazed as they continue trading punches. With remaining, Colon NAILS Williams with an intentional, illegal punch to crotch.
Referee Cooper allows Williams full 5-minutes for recovery. It is now an official bout so if Williams cannot continue would lose which seems unfair but those are the agreed rules. Williams is understandably enraged – although not so understandable gives Colon a "cut-throat" signal. Referee Cooper deducts two points from Colon. Referee Cooper to Colon: "Intentional low blow. You want to box? You take care of that. You take care of that." Referee Cooper to Williams: "Are you ready?" Referee Cooper to both boxers, "Box" – once again to Williams, "Don't you retaliate."
Announcer B.J. Flores offers his first astute comment of the bout by saying Colon is looking for a way to end the bout. Assuming he won the first 3 rounds (30-27) – followed by Williams winning the last two rounds and points deduction (20-16) it has completely turned around with Williams ahead 47-46.
ROUND 6: Within 30 seconds the bout is getting dirtier. Williams holds to back-of-head while Colon lands another illegal low blow. Referee Cooper intervenes, "Time! Time!" Referee Cooper scolds both boxers, "Either one of you got a problem? If you hit low, I'll disqualify both of you. Let's go." The bout continues with Williams stepping forward dominant. Colon is defensive while backing.
Following the round announcer Marv Albert finally recognizes the severity of the proceedings, "It's been a festival of low blows." Williams won the round so is likely ahead 57-55.
ROUND 7: Williams is extraordinarily confident as he continues dominance. Colon appears awkwardly confused. If the fight continues this momentum it appears Williams could win by surprising knockout. Colon has never been knocked-down during a bout. Colon appears to be desperately defensive merely trying to survive the round. He is injured while not really fighting back.
With 0:29 remaining – a couple of back-to-head punches sends Colon to canvas. Colon rolls along the ground initially as if he cannot continue. Williams' trainer, Joe Goosen, shouts maniacally that Colon is faking his injury. Goosen then yells the bout should be stopped; which would be humanitarian and make him a hero if it wasn't self-serving that his boxer would likely be declared the winner. Nonetheless, he is the only person involved with the bout who is correct that it should be stopped.
Terrel Williams is controlled by emotional rage. Again – and he should be warned – he makes a Los Angeles "cut-throat" physical gesture for the 2nd time during the bout – which is a penalty in American football but apparently not to referee Joe Cooper or boxing. Announcer Sugar Ray Leonard is asked whether the back-of-head shot was illegal; he lamely responds it could have been as response to low blows – or maybe not.
Dr. Richard Ashby examines Colon telling NBC he is complaining of "dizziness" and "pain in the back of his head." Colon requests to continue. Dr. Ashby tells him to "shake it off" but does not believe a medical need to REQUEST stopping the bout. Referee Cooper, the ONLY person who can stop the bout, to the outrage of all the NBC announcers and crew (except Marv Albert), assesses a penalty-point for Williams.
The round concludes with various point deductions accounting for an uneven bout which should have been stopped. Williams won the round – but with a point deduction – he is dominating a close bout with 66-64 lead. At least one of the judges felt Colon won the round 10-8 (with the deduction) so their card has Colon with a comfortable lead.
ROUND 8: What is happening for television viewers is not important at this point. For us viewers, Prichard Colon looks refreshed following the 5-minute break so has a better round.
All the NBC announcers, except Marv Albert, including their referee commentator, complain about the point deduction given to Williams the previous round. B.J. Flores complains that Williams' hasn't landed any back-of-blows previous to the 7th round which is ridiculous.
In the least important aspect of this bout – who officially wins – is irrelevant. Referee Cooper should have stopped this bout. Who cares if viewers are angry and write vicious words on social media? A young man's life is on the line. Colon is already in the process of DYING in a truly dirty bout which should have been stopped. Colon probably won the round but remains behind 74-75 – but is far ahead on one judge's card.
Announcer Marv Albert says, "A fight with a degree of chippiness – which might be underselling it." His style is understated, and he almost appears jaded or bored, but Albert is by far the most astute NBC employee as to what has been occurring throughout the bout.
ROUND 9: Colon has looked better since the 5-minute break. It is a fairly even bout with all the craziness. Colon oddly continues touching his glove to back-of-head. I thought he was doing this in early rounds to draw attention from referee Joe Cooper. He now appears to be doing it inadvertently.
With 0:31 remaining Williams lands solid punches in exchange where he is pushing Colon backward. Colon falls to canvas near the corner ropes which appears to be a push, but referee Cooper rules it a knockdown – not that it matters now. At the count of '8' Colon has risen with referee Cooper ordering the bout to continue. 0:19 remain with Marv Albert saying, "(Colon)'s really hurt." Williams steps forward and lands a clean punch followed by another hard, illegal punch to back-of-head which none of the announcers acknowledge. Colon falls to canvas which is ruled a 2nd knockdown. Referee Cooper counts to '8' when the bell sounds to end the round.
There is general mayhem at this point with everyone sort of confused. No one is in control while the bout has spun out of control.
Two of the three judges have Williams ahead at this point. In defense of the other judge 'clean punches' is criteria which favors Colon; despite the intentional low blows. I was rooting for the underdog Williams' throughout and would have him far ahead.
A surreal finish
The conclusion of the bout is surreal. Colon's boxing team (which includes two relatives) does not behave as if the bout is over. Apparently, he is telling his corner which includes his father and cousin that he is "dizzy" and may not be able to continue. Trainer Pedro Luis Diaz Benitez begins removing his gloves without declaring defeat. Willliams' trainer, Joe Goossen becomes ballistic with belief they are stalling for additional time for Colon to recover. They probably are stalling. Slowly – very slowly – they place Colon's gloves on and re-string them. Virginia boxing commissioner, David Holland, has been angered by the delays from illegal punches which delay an anticipated national television prime-time bout. Holland orders the fight stopped due to Colon's corner intentional delay. Referee Cooper agrees and rules Colon disqualified for not being able to answer the final round on time.
Announcer Marv Albert calls the bout's aftermath both "strange" and "bizarre" with Colon only having a few minutes remaining of consciousness. Following the bout, while inside the dressing room before the main event (Peterson/Diaz), Prichard Colon mentions dizziness and the back of his head. He vomits and collapses unconscious. Colon is transferred immediately to Inova Emergency Care Center in Fairfax, Virginia for brain surgery. If anyone is a HERO for this story it is those emergency care workers.
NBC merely promoted their bout online, "Prichard Colon loses after mistake by his cornermen," with video of Williams knocking down Colon twice. There is no mention that Colon collapsed following the bout or concern for Colon's health in the several months since. Marv Albert, Terrel Williams, Dr. Richard Ashby all stopped tweeting before the bout and haven't since. That may not be the world's worst idea for anyone – famous or not.
Washington Times following day headline: "'Premiere Boxing Champions' card a crime, not just an embarrassment." The article blamed referee Joe Cooper for repeatedly ignoring Colon's corner complaint that Williams was grabbing the back-of-head and punching. The reporter, who was ringside, wrote, "Organized crime' has more civility and less violence than the fiasco which NBC advertised as a boxing bout."
All about Sugar
Sugar Ray Leonard is a persistent tweeter on social media so I hoped he had some sort of public thought about the bout. I doubted it. His twitter page is a self-congratulatory museum to himself, which as one of the greatest boxers in history, fully deserves. It is mostly the same stuff: his fights with Hagler, Hearns and Duran; his admiration of martial-arts/actor Bruce Lee, Muhammad Ali, and mentor David Jacobs – a quote by Mike Tyson he often retweets – his thoughts about undefeated Floyd Mayweather Jr. There is a sad, gothic Gloria Swanson quality to Leonard from "Sunset Boulevard" constantly reliving his best moments from the past.
Sugar Ray Leonard tweeted his promotion for the Colon-Williams, Peterson-Diaz bouts. He follows this with a quote by himself – follows this with a photo of his fighting Hearns – follows this with his with thoughts about heavyweight champion, Wladmir Klitschko – follows this with happy thoughts of seeing Duran at Madison Square Garden for the Golovkin/Lemieux bout – follows this with his excitement about viewing the Golovkin/Lemieux bout. This explains Leonard "sleepwalking" though the Colon/Williams bout. A major reason is he didn't care and wanted to be somewhere else. That's EXACTLY what he sounded like on NBC live television! More tweets from October 17th: "What a left hook by Golovkin!" – followed by "GGG does such a great distance with those jabs. So accurate and so much power behind those jabs," followed by "down goes Lemieux" followed by "Gotta give Lemieux credit for taking these jabs and staying aggressive," which ended his tweets for the day. By October 18th he would have learned – if not sooner – that the bout for which he was a paid announcer left one of the boxers in a coma. There is no mention of Prichard Colon or the bout. Instead he tweets a photo of himself with Angelo Dundee – followed by a Bruce Lee quote – followed by a photo of him early in professional boxing career – followed by a photograph of a Muhammad Ali bout – followed by his thoughts on Floyd Mayweather Jr. that he often retweets which concluded his day.
As to the question: "Where was the most compelling professional boxing on October 17,, 2015?" the crew at Ringside Boxing Show would be in agreement with Sugar Ray Leonard. Dennis Taylor and the gang concentrated on Golovkin versus Lemieux. The difference is that while Ringside Boxing Show – or any boxing fans – can choose whichever bout is most interesting to them, Sugar Ray Leonard was paid by NBC to care about another fight card. And during a bout Sugar Ray Leonard was paid to watch, a guy nearly died on his watch. And even that didn't make the man human. Prichard Colon falling into a coma on Sugar Ray Leonard's watch remained of less concern to the man than Gennady Golovkin's left hook.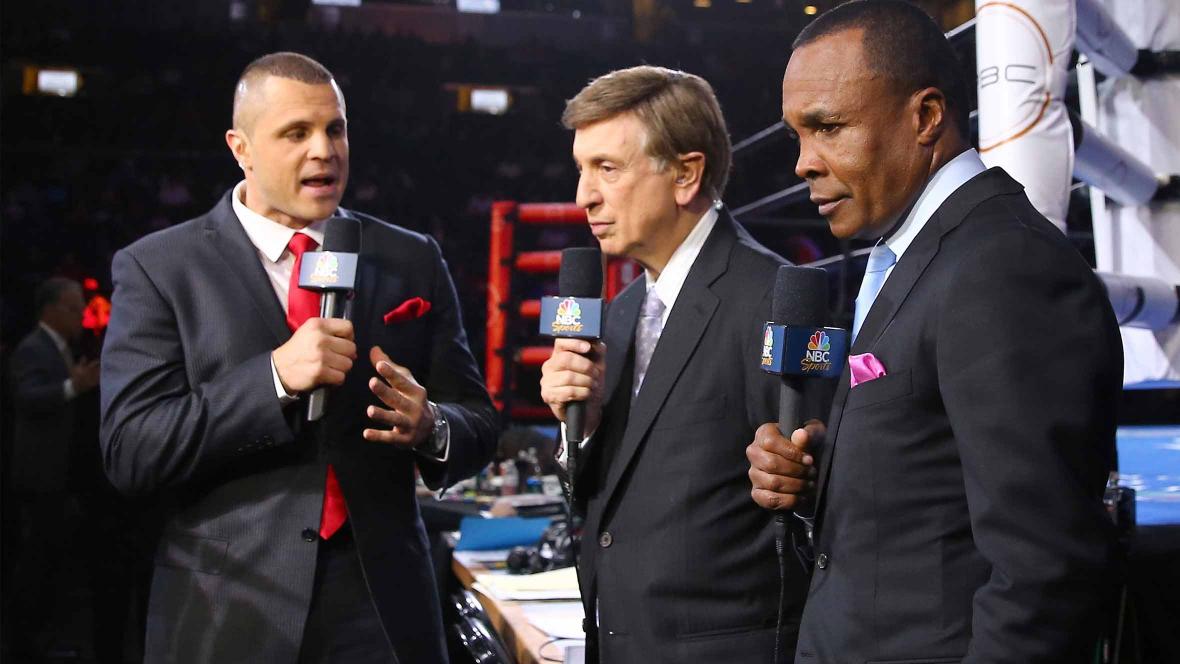 I was annoyed by B.J. Flores presence throughout the NBC bouts. OLD SCHOOL – I loved the late Don Dunphy bouts; all you need is Dunphy to explain the bout. NBC has all these unnecessary people for the sake of more clusterf*** analysis. Flores was trying to transfer from his post-boxing career, so I suppose if I were in his shoes, I would be wildly exuberant of anything NBC asked of me, too. He didn't know a fellow pugilist was in serious trouble, so his thoughts weren't about the boxers, but himself. Flores' overly emotional rant during the seventh-round foul was, "If it was intentional back-of-head punch, wouldn't Williams have done it earlier? If it were intentional, wouldn't this be the worst time?" It's a good point. Because Flores was so crazed by the one-point penalty deduction of Williams -- which seems so unimportant in retrospect -- it's easy to view him a limited sports lunatic. Had Flores' agreed with the deduction because the back-of-head punches had occurred repeatedly (which Marv Albert would have likely supported), he would have seemed sane – or how about astute? The point deduction was long past due as referee Cooper was attempting to regain control of a bout in which he had lost the pugilist's respect.
B.J. Flores is a member of the Church of Jesus Christ of Latter Day Saints. He claims his life is devoted to the church's work. In July 2015 he received his first title opportunity versus Beibut Shumenov for the WBA Cruiserweight title. He lost a unanimous 12-round decision. Flores had a better night than Sugar Ray Leonard during and after the Colon-Williams bout. No one can blame Flores' ambition to further his career, although his presence was not necessary. At least he was energetic and not preoccupied with another boxing bout elsewhere. Flores tweeted on October 17th: "Prichard Colon is entering surgery for a severe brain bleed. May God bless him and his family during this time." Flores later tweeted, "These things BRAKE (sic) my heart. Such a nice kid full of LIFE/good energy in the fighter meetings yesterday. Very sharp." It is a reminder that Sugar Ray Leonard is a champion INSIDE the ring – maybe not so much outside. Flores doesn't mention the main event, Peterson/Diaz. His church's values truly are a part of him and not just promotion. Flores tweeted on October 19th: "Prichard Colon. I know you can hear me…. Please come back to us."
Prichard Colon family update: "(October 19th) Good morning, according to Richard Colon, father and coach of Prichard, latest neurological tests, Prichard showed reflexes in his left hand. While it is a step forward, he remains in a coma. (Prichard) remains in recovery at Inova Fairfax Hospital in Virginia. We appreciate the interest and prayers for Prichard."
Prichard Colon family update: "(October 21st) Prichard remains in a coma while receiving neurological and responding to different stimuli."
Prichard Colon family update: "(October 22nd) The doctor has contacted the family and informed them that they have done everything possible for Prichard and just wait until he wakes up."
Prichard Colon family update: "(October 24th) LAST MINUTE!! Prichard is breathing without machine!! The Glory of God!! He just needs to wake up."
From hope to rage
By November, 2015, positive prayer and hope turned to didactic RAGE from Prichard Colon's family, which is 100% understandable. It is easier to be angry than analyze. Something terrible happened to their talented, brilliant 23 years-old kin and there would be no accountability. An online petition began so that someone is responsible for what occurred during a dirty bout where a pugilist was seriously injured. You cannot blame the American Medical Association because they would never have advocated the bout – or any professional bout – because it's inherently too brutal for brain-safety. The petition, signed by more than 7000 people, advocates that the following be BANNED from boxing permanently: pugilist Terrel Williams, referee Joe Cooper, Dr. Richard Ashby and promoter David Holland.
Since the last thing the boxing world desires is this petition let me publish some of its complaints. If boxing is NOT a Neanderthal sport which should be banned we have nothing to fear. I acknowledge editor, Juan C. Ayllon from Cyber Boxing Zone and Dennis Taylor from Ringside Boxing Show for publishing a story which is the antithesis of our values and doesn't place boxing as positive perspective. I view it as several powerful, influential financial people forgetting about the pugilist's well-being and it took a TEAM of individuals forgetting about their welfare which resulted in tragedy : "On Saturday, October 17th, 2015, 23 year old Puerto Rican Welterweight and promising prospect, Prichard 'Digget' Colon sustained severe brain injuries and subsequently had emergency brain surgery to relieve the pressure in his brain due to a number of blows to back of head which are considered 'illegal' in the sport of boxing. These blows were administered by Tyrell (sic) 'Tyger' Williams, who, unbeknownst to the Colon corner, is known for illegal blows to the back of head or 'rabbit punches'. During the fight, Colon complained numerous times to the referee, Joe Cooper, but his plea for help from the referee to do something about the illegal blows went unnoticed…. At one point in the fight, after another illegal blow to the back of Colon's head, Colon succumbed to the illegal blows and was knocked down. He was checked by the doctor, Richard Ashby, who was hired by the commission to observe the fight. Colon then continued on with the fight not before being told by the representatives from the Virginia Boxing and Wrestling Commission Executive Director, David Holland to stop with the 'stalling tactics' referring to the amount of time he took to recover from the knockdown although it was visible he was having issues and pain on the left side of his head…. Once the fight was finished and the adrenaline wore off, Colon began to feel dizzier and vomited in the locker room where he eventually became unconscious and was taken to a hospital to have emergency brain surgery. After the successful surgery, he went into a coma, in which he has remained since October 17th…. Due to the negligence of Tyrell (sic) Williams, Joe Cooper, Dr. Richard Ashby, and David Holland, a young man's dream since he was 3 was to become World Champion has been undeniably stripped but MOST IMPORTANTLY, finds himself in the biggest and most important fight yet – the fight for his life!!"
The petition was sent to the President of the Association of Boxing Commissions, Mike Mazzulli. Mazzulli responded, "Tragedies in combative ring sports are fortunately far below those of most contact sports, meaning that when an injury occurs, all of us are affected. The ABC cannot take action as such is not provided for in the Association of Boxing Commission bylaws. But since the safety and welfare of all participants is the Association's primary concern, it is my sincere hope you will keep us advised of any findings or rulings. Perhaps you could remove the ABC from the petition circulation, but contact me directly upon conclusion of any findings. Respectfully, MM."
Blood and water
Does Prichard Colon's family, especially his father Richard, deserve partial blame for what occurred? He should have known better than anyone that his son was in trouble and surrendered an undefeated Golden Goose – the ambition and dreams for EVERYONE involved having a better future – and called it 'quits'. A bad day still means another day. Blood is thicker than water – and winning a boxing championship is water.
The easiest person to defend amongst the "Evil 4" in the online petition is Terrel Williams. Prichard Colon, God bless his heart, landed a nasty, dirty illegal 5th round low-blow to crotch of Williams which deservedly received a two-point deduction. It should have led to disqualification if perspective could be imposed from hindsight. If you permanently ban Terrel Williams from professional boxing – you must permanently ban Prichard Colon too – alive, or horrible to think about, dead.
The legal consequences for Williams could be severe. If Prichard Colon dies, Williams could be charged with manslaughter. If there was an intentional maiming to Colon's back-of-head – personified by the 7th round point deduction – Williams would deserve going to prison. But in this case it would be hard to identify a single-punch meant to murder Prichard Colon, although every punch is meant to injure and/or wound an opponent. That's the sport!
Hubristic NBC executives, via Premiere Boxing Champions, could (but won't) be charged as accessories to manslaughter. They imposed a ban – against advice of the American Medical Association – which PROBIDS physicians halting a bout if a pugilist is in physical-health danger. It reminds me of that scene from Robert Redford's film, "Quiz Show" when the congressional investigator informs NBC's President, "I've got you dead to rights," while the NBC President confidently smiles/sneers, "Then why are you the one who is sweating?"
On December 3rd, pugilist Peter Quillen said a public prayer for Prichard Colon at his press conference before his Battle for Brooklyn fight versus Daniel Jacobs: "Lord, make sure you provide another day for Prichard and his family."
Prichard Colon family update: "(December 11th) the surgical procedure for Prichard Colon on Friday was a total success. Now, Lord, you want to have life in abundance, I pray by the power of the mystery of Your childhood and Your life hidden in Nazareth, heal our son Prichard, whom You know and love. Take care of him and his soul. Spend Your healing hand so he can feel Your relief, Your care and shall soon be restored completely according to Your will."
The case against Joe Cooper
By far, the most controversial bout referee Joe Cooper's 19-year career was December 10th, 2011, Champion Amir Khan versus Lamont Peterson for the WBA Light-Welterweight title. The first round had a questionable slip ruling, instead of a knockdown, when referee Cooper was out of position and fell to canvas. More controversial was a "push" one-point penalty deduction assessed to Khan as the seventh round was concluding. Cooper assessed Khan another one-point penalty deduction midway through the 12th and final round for another hard push and then landing a punch during a clinch-break. The two points were the difference in the outcome when two judges ruled Peterson the victor by a single point. Someone began a Facebook page following the bout named, "Joe Cooper should be pissed on," and suggested he be shipped to Guantanamo Bay detention.
USA Today named Joe Cooper second for their annual, "Worst performance by a referee," category in 2011. Ultimately, while fans raged at referee Cooper's interference in the outcome it was rendered inconsequential when Peterson later tested positive for an illegal testosterone drug. Khan remained the official loser but reclaimed his titles.
Referee Joe Cooper claims to have a PHD in psychology from the University of Pennsylvania. Whatever the legitimate controversy that followed Cooper following the Khan/Peterson bout at least there wasn't the gross negligence which allowed Colon/Williams to bellow from control. A man's life was needlessly sacrificed by someone who should not be allowed to referee a professional bout again. I believe Cooper didn't intend on the disastrous results, but nonetheless he was the sole person empowered to end the bout – and he was too slow.
The American Medical Association publicly advocated the abolition of boxing, at least in its current form, during the 1980's. They deemed it unrealistic that professional boxers would be limited to punches above the waist and below the neck. Nonetheless, the AMA published eight recommendations which included the following: (1) "Recommend to all boxing jurisdictions that no amateur or professional boxing contests should be permitted unless the contest is held in an area where adequate neurosurgical facilities are immediately available for skilled emergency treatment of an injured boxer." (2) "Recommend in all boxing jurisdictions that the ring physician should be authorized to stop any bout in progress, at any time, to examine a contestant and, when indicated, to terminate a bout that might, in his (or hers) opinion result in serious injury to either contestant."
One must question NBC's bizarre desire to defy the AMA by not allowing medical doctors to stop boxing bouts they produce. Why would they want a psychologist instead of a medically-trained physician to determine whether Prichard Colon or any boxer's life is at stake during a bout?
A horrible holiday season
Prichard Colon family update: "(December 20th) Our duty is to let you know that Prichard is still in a coma but stable. He is reacting to stimuli and that fills us with hope and faith." On that same day, I perform as radio guest for Ringside Boxing Show from Tijuana, Mexico. Dennis Taylor and the gang discuss the year's strangest boxing stories. Then I appear to discuss John L. Sullivan and Professor Donaldson being arrested on Christmas Day in Cincinnati for engaging in an illegal prize-fight in 1880. I prayed for Prichard Colon's life that day in Tijuana during Catholic service. As I prepare for Christmas with family in San Diego, California I am cognizant that it must be horrible 2015 holiday season for Prichard Colon's family.
Dr. Richard B. Ashby, 58 years old, graduated from Howard University College of Medicine in 1983. There are no obvious public problems in his professional career. He has practiced medicine in Washington D.C. and Virginia. His Virginia license was current on October 17th, 2015. According to Healthgrades.com he has 0 malpractice claims, 0 sanctions and 0 board actions. The few patients (verified) to write anything are positive along the lines: "Dr. Ashby had a great bedside manner. His approach to my medical issues were informative, detailed and exact. Nurse Keisha was GREAT. If you have the pleasure of visiting the Arlington office expect to wait awhile but it's well worth it." I am not sure of EVER having a doctor's office visit with a long wait where it was a GREAT experience – and I have never met Nurse Keisha – but this is what patient's post online.
Richard B. Ashby should never be allowed to be a professional ring doctor again. PERIOD! There cannot be a professional boxer's death on a doctor's watch with no personal responsibility. He had the opportunity to save a young man's life – and FAILED! I am not suggesting he should be arrested or prosecuted as a criminal. I am saying it is a disgrace to boxing – but what everyone expects – that Prichard Colon and his family have gained boxing adversaries who desire they should – umm – DISAPPEAR!!! Dr. Richard Ashby has a successful medical practice in Washington D.C. and Virginia as a personal physician and can still retain his boxing promotional company – BUT HE SKREWED UP – and "oops" isn't good enough for an excuse.
Although trainer Joe Goosen and promoter David Holland were insanely shouting that Prichard Colon was "faking" dizziness and head injury during the 7th round doesn't alter the reality that Ashby is the only one who graduated medical school so the person whose decisions merits consequences. Goosen and Holland were offering their emotional, ignorant, self-serving, personal observations. Dr. Ashby was confined to a detached professional, medical decision. That's why you have educated doctors at amateur/professional boxing bouts.
No surrender
Prichard Colon family update: "(December 31st) God bless with blessings in the New Year. Let us pray for our Prichard and for God to perform His greatest miracle. We do not surrender because Prichard continues to battle."
Virginia Boxing Commissioner, David Holland: "I saw two fighters who didn't particularly care for each other, who fought very hard against each other. There were some instances where each fighter fouled each other." His department did not respond to my requests for information regarding the Prichard Colon 'investigation'.
Englishman David Holland prides himself from the Old School – which makes me envision an expensive Cuban cigar dangling from mouth – cheap about life's minutia but not cigars – no nonsense. He's a lover of boxing news who frequently listens to podcasts although they seem to anger more than please him. He'd probably like my team of Dennis Taylor, John J. Raspanti, Rizwaan Zahid and Travis Lee Hartman at Ringside Boxing Show – or he would until this story is published. Whether he is fair or not as powerful Virginia boxing presence is debating point. Many Virginians of boxing interest have been angered by Holland over the years, but they prefer to post anonymously with none of their claims truly vial. Boxing people are competitive and competitors which makes few friends and many enemies. Holland is a frequent Twitter user with no mention of the Colon-Williams bout. To this day, he has not expressed genuine concern for Prichard Colon or his family.
David Holland's first tweet following the Colon-Williams October 17th bout is ten days later: "Cheers to Professor Green for bravely speaking up on suicide. Watch 'Suicide and Me' on BBC Three NOW… very touching watch." There is no particular rhyme or reason for these following tweets: (November 7th) "Absolute appalling refereeing by Terry O'Connor!! NO WAY HE HAVE STOPPED THAT THE OTHER WAY AROUND!! Feel sorry for Dodd." There are three more emotional tweets about that day's bouts. (November 15th): "Absolutely gutted for you Dean Cox (a soccer player) but I'm sure you'll be back as strong as ever. Os legend mate! Good luck and good luck to lads today." There are a string of angry tweets about boxing podcasts. (January 3rd, 2016): "My dry January starts when I get back to work….. currently trying to empty the house of alcohol."
A visit from Tito
Prichard Colon family update: "(January 9th) Today a huge blessing for our Prichard!! During the afternoon Richard (father) and Nevis (mother) received Shephard Institute in Atlanta, the Three Kings visited: Felix 'Tito' Trinidad, Dona Irma and Luz M. Trinidad. The Trinidad family brought joy to Prichard, with prayers, songs and lots of positive vibes. Prichard's reaction? Wow! Super impact! Prichard showed signs of excitement to feel and hear his idol in life, the eternal champion, Felix 'Tito' Trinidad. He shook his head looking for the voices of Tito and Dona Irma, according to these they spoke and tried to move his mouth, as if searching for his speaking voice. No doubt the presence of God was felt in that room. This week will be crucial in the life of our champion. A week of important changes and we need every one of you: friends, family, fans…. Their prayers at this time are more necessary than ever! Prichard is there, is with us and we want to get him up! We are eternally grateful to each of you and we continue to there for Pri! God bless everyone!"
Prichard Colon family update: "(January 17th) Today marks three months since our Prichard fell into a coma. 3 months of continuous prayers are met. 3 months after a strong battle TODAY marks while Prichard is still struggling. 3 months to feel the unconditional support of all who we have met today. Keep praying for God's work in Pri and this week will have good news! Family, friends and supporters…. Thank you for not leaving us alone."
Terrel Williams has mostly avoided the media since the bout but allowed a telephone interview with Los Angeles Times. He says he has cried several times since the bout's outcome and recognizes family is more important than boxing. Williams says he prays daily that Prichard Colon awakes soon and returns to his family.
Prichard Colon family update: "(January 31st) Greetings, it is 105 days entering another crucial week. Compared to days or months ago Prichard has improved but is still in coma. Another CT scan will depend how other medical procedures develop. Even here in Shepherd Center, Georgia we continue the battle we began. God will take care."
Prichard Colon family update: "(February 9th) Today our Prichard underwent a major medical intervention. His response was very positive and we expect good results in the upcoming days. Continue in prayer! Do not go down."
Prichard Colon family update: "(February 17th) Today is four months from the battle where our Prichard was hurt. Thanks everyone for the support from day one and the endless prayers. During the morning once again, Pri underwent surgery, a different operation from the above, but very necessary and hopeful in his recovery process. His response has been positive and we expect great things in the coming days."
You learn about your alleged 'friends' – not in the best of times – but the worst. One of the Colon family most outward supporters remains former champion, Felix Trinidad. He participated in a February 21st exhibition to raise funds for the Colon family.
Prichard Colon family update: "(March 11th) Greetings friends! I inform you that our Prichard continues to progress slowly. I ask you not to abandon prayers for Pri… We continue with this fight. With God all is possible."
When it rains – it really pours. On the 5-month anniversary of the bout while Prichard Colon remains in coma the Department of Professional and Occupational Regulation concluded its "exhaustive" investigation with not-surprising findings: "No one action can be identified that is so apparent or egregious to justify holding accountable any one person. When there's a terrible outcome, it's only natural to want to find someone or something to blame. Strong feelings can generate healthy debate, but are (it is BEAUTFUL they spelled 'are' and not 'our) judgment as a regulatory body cannot rest on subjectivity or matters outside our legal jurisdiction." So referee Joe Cooper and Dr. Richard Ashby (along with Terrel Williams) are 100% exonerated despite Prichard Colon pleading over-and-over on nationally televised bout that the back of his head was hurting with something terribly wrong. While the person in charge of this DPOR ruling yelled at Referee Cooper in the 7th round that Prichard Colon was 'faking' his head injury.
The spokesman for the Colon family, Prichard's father, claims to have hired an attorney for an upcoming lawsuit. Upon legal advice, the family does not have further media comment. I am not a lawyer, but wonder whether this is best idea. Russian heavyweight Magomed Abdusalamov was permanently brain-damaged and physically paralyzed from a November, 2013, bout at Madison Square Garden. The New York persons involved in the bout wanted to sweep it under-the-rug but the Abdusalamov family has cooperated with the media so ESPN, the New York Times, New York Post have run frequent stories which has made non-cooperative people talk – and those who won't release a public statement – release one. Their attention has turned the Abdusalamov story from local New York story national while the Colon story is mostly limited to smaller Spanish-language media updates. In fairness, the Washington Post broke the news on the DPOR ruling. I would speak to the Colon family – Dennis Taylor would offer carte blanche to say whatever they want on Ringside Boxing Show – it appears the Washington Post would speak with them. It wouldn't surprise me – not based on legality or fairness – if the Abdusalamov family wins their lawsuit while the Colon family loses.
Prichard Colon family update: "(March 26th) Greetings friends! We are in full communication with Father God, waiting for your time! In the middle of this week, Pri underwent surgery and by the end of next week will return to the operating room. In this (Easter) week, the week higher, we ask for one-minute to ask our Creator about the health of our champion. Keep praying for God to do us the miracle. We trust in Him, who wait."
Prichard Colon family update: "(April 25th) Greetings friends! I inform you Prichard remains in a coma, but stable. He is currently sedated due to recent surgery he underwent. We receive signals he is with us, but must wait for perfect moment from God. Please continue with the prayers and good vibes. God bless everyone!"
Prichard Colon family update: "(May 15th) Greetings friends! Prichard remains in a coma, but is stable. Although Pri is giving us positive signals, he has not awakened from the coma…. This is a slow process, a struggle every day. Step by step waiting for the perfect time for God. I ask you not to abandon prayers and continue together asking God to return Prichard as soon as possible."
Prichard Colon family update: "(July 26th) Greetings friends! I tell them that every day we struggle with more energy and much more faith. Today, just after 9 months after that horrible day, we can say that Prichard is improving gradually. The pace is slow and the road is long but with hard work we will get there. I ask you to keep praying and do not leave Prichard out of your thoughts. Thanks for all the love."
It is common for boxers who kill (however unintended) in the ring to get knocked out regularly afterward. Maybe these pugilists assuage guilt by getting their own heads bashed. Terrel Williams had no intention to hurt Prichard Colon on October 17th, 2015. As of 15 months later, January 17th, 2017 Prichard Colon remains in a coma. Terrel Williams has not fought since. The harder you dream, the harder you fall.