Notorious Denver heavyweight
'Mexican' Pete Everett (1895-1914)
By CHRISTOPHER JAMES SHELTON
The first Europeans to reach the land which became known as Colorado were Hispanics. Spanish provinces were claimed amidst the Native population by the end of the 16th century. The recently formed United States of America hedged into the region but expelled by Spanish cavalry. In 1821, Mexico officially declared itself independent from Spain – although they had declared Spanish provinces were theirs for more than a decade prior.

The United States of America, under Polk the Prick (aka/ President Polk) initiated a war with Mexico (which congressmen John Quinsy Adams and Abraham Lincoln voted against) during the 1840's to violently steal New Mexico and California. The good Ole USA stole the desired territory – and then kept on stealing. "God Helps Those Who Help Themselves" – so USA helped itself to Colorado's land, 1848.

Hispanics began to arrive in larger numbers establishing settlements in 1851. Decades following the United States of America's military genocide and ousting of Sheyenne and Apache Natives – President Ulysses S. Grant (who was disgusted his beloved nation overpowered Mexico for wrongdoing) – signed an 1878 proclamation declaring Colorado an American State.

Amidst land conquests which included USA military mass rapes of Latina women and cold-blooded murder of Latino children was the birth of a Colorado Latino baby, Pete Everett.
Recession, the gold rush, and protestant bigotry
1893 brought upon Denver, Colorado's first major recession following a gold-rush only three years earlier. President Grover Cleveland's determination to strengthen the value of gold led to repeal of the Sherman Silver Purchase Act of 1890. The value of silver plummeted due to reliance of silver for its mining industry whose decline led to discouragement of foreign investment – mixed with years of drought that had diminished its agriculture industry results in closure of 377 businesses with 45,000 unemployed. Banks closed; many lost their life savings. Protestant bigotry led to formation of the American Protective Association that barely masked its intent to employ Protestants over Catholics in an increasing volatile region.
The Mexican from Cripple Creek
From Cripple Creek, Colorado, an elevation of 9,500 feet was a Latino heavyweight named Pete Everett. Although American, his brown skin led to his mostly being referred as "Mexican Pete" or merely "the Mexican". He was a well-proportioned teenaged athlete at slightly over 6 feet and 175-185 pounds. Everett likely entered pugilism due to poverty or economic hardship. His family would have been dependent on Colorado organizations such as The People's Tabernacle for food, winter clothing with access to bathhouses... Everett began his local notoriety, aged 19 from February, 1894 to May, 1895 with a string of knockout victories.

'Mexican' Pete Everett (7-0) vs. Bert Price (0-0)
April 18, 1895, Creede, Colorado – non title bout – Everett scores 1st round KNOCKOUT! Everett would advance his record to 9-0-0, 9 knockouts.



Popular music of the day:

"Give me that old time religion; give me that old time religion; give me that old time religion; it's good enough for me. It was good for our mothers; it was good for our mothers; it was good for our mothers; and it's good enough for me. It was good for our fathers; it was good for our fathers; it was good for our fathers; it's good enough for me."

'Mexican' Pete Everett (16-1) vs. Jim Williams (14-1-1)
Dec. 1, 1896, Cripple Creek, Co --- Everett wins by KO – damned good record at 17-1-0, 17 knockouts.

Jim Williams was a talented pugilist who emerged as Everett's earliest 'name' rival. Everett suffered his first loss to Williams with a disqualification. Their third encounter was won by Everett when Williams was unable to continue following the ninth round. Their fourth and final matchup concluded decisively for Everett via knockout.




James Jeffries

Tracy Callis (chief historian, Cyber boxing Zone): "(Age 23, 6'2 ½, 210 pounds) James Jeffries is considered to be one of the greatest heavyweights of all time; He was not a polished boxer but was blessed with enormous strength, power, stamina chin and determination…. Jeffries was inducted into the Ring Boxing Hall of Fame in 1954 and the International Boxing Hall of Fame in 1990."

James Jeffries would eventually knockout Bob Fitzsimmons (following several knockdowns) to become White heavyweight champion, 1899. He retired undefeated before an ill-advised comeback versus champion, Jack Johnson. Jeffries was a chiseled, athletic Adonis during his prime standing 6'2 ½ and muscled 220 pounds. Everett was likely afraid of Jeffries who already held reputation as the sport's hardest body puncher. The bout was held on Jeffries' turf which implies a 'name' set-up victim. Jeffries was already being groomed as a heavyweight contender so money lured Everett to appear, and ultimately humiliate himself while damaging his pugilist reputation.
'Mexican' Pete Everett (21-3) vs. James Jeffries (6-0-2)
April 22, 1898, San Francisco, Cal. --- Non-title bout
Rounds 1-2: Everett backs and backs – Jeffries chases – little to no fighting. Once in a while, Jeffries lands body punch – Everett backs.
Round 3: It's a bit confusing to reconstruct what is happening. Everett backs and backs – appears to cower at times and adamantly refuses. At some point, Jeffries approaches – Everett cowers to a crouch with face hidden behind gloves – Jeffries becomes disgusted and swats his glove to air and refuses to fight
With the lack of proper newspaper coverage – and the lack of knowledge regarding mental health issues of the time: either Everett is frightened or having some sort of mental breakdown inside the ring.
Either way, the referee likely follows the appropriate action and intervenes – waves hands; bout over – TKO -- the ref protecting a confused Everett from unnecessary physical damage.

Bob Armstrong

Tracy Callis (chief historian, Cyber Boxing Zone): "(Aged 24-25; 6'3, 185-217 pounds) Bob Armstrong was a very good fighter who was used as a sparring partner during 1895-1910 by Jim Jeffries, Bob Fitzsimmons, Tom Sharkey and Joe Choynski. He was a natural left-hander who moved quickly; had an excellent straight, sharp left jab and a hard right punch. He was a good counter-puncher who was light on his feet and ''cool-under-fire'; His greatest weakness was taking shots to the body."

Bob Armstrong was the Colored heavyweight champion from 1895-96. He was gargantuan for his time – 6'3, over 200 pounds via Chicago, Illinois, He was groomed by the manager of former Colored heavyweight champion, Peter Jackson for a major payday – and personal conviction – to set-up the unifying heavyweight champion – separated by ethnicity/rake. An amiable man, Armstrong received New York City boos because he a patient pugilist with steady left jabs – allowed by defensive White boxers – but larger Black pugilists were expected by White spectators to be aggressively offensive.

Bob Armstrong (11-3-4) vs. 'Mexican' Pete Everett (24-5)
July 4, 1898, Denver, Co.: Held on Everett's home turf; Everett wins by fifth-round KO.

Frank Childs

Tracy Callis (chief historian, Cyber Boxing Zone: "(Age 31, 5'9 ½, 170 pounds) Frank Childs was a short, stocky, strong fighter who tangled with anyone – from the middleweights up through the heavyweights; He was never a heavyweight by today's standards but he WAS powerful and hit like one."

Frank Childs was a Chicago offensive pugilist who set-up his hard right knockout punch via tough left jabs. He was both Colored heavyweight champion and Black heavyweight champion. He only stood approximately 5'10, 185 pounds. He received only $20 for knocking out Bob Armstrong for the colored heavyweight title in 1898 while receiving $0 when he lost the Black heavyweight title to Jack Johnson in 1902.

Frank Childs (32-3-7) vs. 'Mexican' Pete Everett (24-5)
May 24, 1899, Chicago, Ill. -- Non-title felt on Childs' home turf.

ROUNDS 1-5: Childs has damaged his right hand – dominates easily with left jabs. It is not Childs' usual style – Everett attempts little offense while mostly defensive in protecting stomach and upper chest. Childs is frustrated with himself – desires finishing foe; but his useless right prevent slugfest desire.
ROUND 6: Childs attempts knockout – paws with right and attempts to hammer with left – Everett takes punches and blocks. Round nears end – Childs lands clean left hook to jaw – Everett drops to ground.
Referee counts: '1, 2, 3, 4' – Everett sits on ground, perhaps more tired than dazed – '5, 6, 7' – Everett content not to rise – '8, 9' – bell sounds; bout over…. Crowd cheers as ref announces Childs as victor.

Chicago Tribune review:"If a fighter can beat another with practically one hand, it certainly is not an even match. The colored man (Childs) easily held his own throughout the contest and did no punching of any account except with his left hand…. When Everett did attempt to fight, he did not appear to possess force enough in his blows to bother Childs in the slightest degree. It was this feature that made the contest farcical…. 'Mexican Pete' Everett of Denver may pass for a fighter out West, but here in Chicago the standard is evidently higher."

Our sad life
Our sad life on 27th and Glendale Avenue, Phoenix, Arizona, 2019, may be a world Mexican Pete Everett knows too well. Nobody owns cars – our mode of transportation is walking. City of Phoenix is taking away Homestead Park (aka/ "Homeless Park") about the only place to gather or hide from reality. Phoenix already bolted-down the bathrooms and water fountains – they believed the stalls were being used for injecting heroin. The homeless lay zonked on the playground slide daily. The dumpsters were finally taken away. Colleen complains that construction on Northern Avenue has driven their prostitutes ("Northern bitches") to Glendale -- who then utilize Glendale prostitutes' bus stops and sidewalks. Perverted married guys drive endlessly day and night looking for $20 blow jobs in apartment parking lots or invite the women into their cars with no money – so they can touch or molest them and later masturbate for free. Food is what you scrounge for survival. Low-income housing exists for those who don't sleep on benches or some lonely spot by the pawn shop or liquor store.

When I met Colleen, she was homeless with her friend, Mooch, as she slept on the ground with no blanket or pillow. Her life possessions were two backpacks about 6-8 feet away. Dog Lisa with Zeus knew them and wanted me to meet her newest collection of "homeless toys" amongst whom she befriends and invites to her home. I see an older, tired worn-down white guy sitting against wall along with younger pink-haired, blue-eyed Irish girl lying down on asphalt. No blanket or pillow wearing sort of dirty but nice enough faded white dress. Colleen emerged from the tire shop back-lot ground in a cloud of dust and haze – new age-punk-rock looking like vocalist Shirley Manson from the band Garbage and talking street-tinged intellectual cool, "Hey, who the fuck are you?" Whatever I shyly mumbled she replied: "You're okay so just say it." I don't respond. She insists, "Say it," and then orders: "JUST SAY IT!

Punching women without consequence
27th and Glendale Avenue life, 2019, is not remarkably different for its Americans than 1897 Cripple Creek, Colorado, for Mexican Pete Elliot. USA is not the best nation – then or now – or something we only learn from newspapers (then) and television (now). It's a world where your only hope for marginal respect is through drug dealing, pimping or perhaps pugilism.

Pete Everett – "Mexican Pete" – could occasionally land a "fix-it" outdoors handyman cowboy job – he hated and avoided mines; dirt was okay but not coal – but his poor, free-spirit world was mostly inhabited by people nicknamed Fat White Lisa, Fat Black Michelle, Silence, Nic-Nac, Kiki, Lexi, Mooch, Pigeon, Dick Fuck, Rapist Larry, Dog Lisa, Lazy Fuck, Alexa Alex, Smutty, Lazy Matt, MoMo, JoJo, Meek Zeke, Kat Lady, Smooth, Diamond, Pimpess Sandra ("$100 – but that includes anal") Broadway, Van Guy, RaRa, Ray Ray, Black Rico, Mexican Rico, Handicap Cuttie – and of course, Blue-haired Colleen: "Guys have bigger pussies than all the women out here," – then kindly gives some of her prostitute earnings to lost, defeated homeless guys – gives Kiki and Lexi free condoms – and only cuddles with Zeus the dog. Guys like Smooth punch Colleen in 2019 – guys like Mexican Pete Elliot punched women without consequences in 1899.

Renowned for behaving 'cowardly'
Pugilists such as former heavyweight champion, John L. Sullivan, beat the shit out of women fairly often. Fame has its perks and downside. Boxing – particularly the heavyweights was America's #1 sport. Sports enthusiasts could greet, "Hey Champ," or maybe had a drink or two too many fueled with derision: "You're a bum." For the moment, Mexican Pete Elliot was most renowned for behaving 'cowardly' versus the current heavyweight champion, James Jeffries. It would not be out of character for a disreputable guy with a temper such as Mexican Pete Elliot to punch or choke a mouthy woman such as Colleen: "If your dick don't work, that's not my problem. I get paid whether you cum or not." After Elliot hits a woman full force – for a moment the name 'James Jeffries' doesn't exist. He feels good; he feels like a man.




Joe Choynski

Tracy Callis (chief historian, Cyber boxing Zone): "(Age 30, 5'10 ½, 170 pounds) Joe Choynski was a clever, well-coordinated fighter who hit hard with each fist and moved well on his feet; He was one of the outstanding light heavyweights at the turn of the century; He also fought as a heavyweight, despite weighing less than 180 pounds…. Choynski was inducted into the Ring Boxing Hall of Fame in 1960 and the International Boxing Hall of Fame in 1998."

Joe Choynski was a thin, lanky 5'10, 175 pounds light-heavyweight whose boxing skills made him a bigger threat to heavyweights. He tended to slug-it-out with guys his own build or smaller – to sometimes disastrous results – but boxed 'scientifically' against larger, stronger men. Choynski read Daniel Mendoza's 18th century book to learn defensive techniques. His left jab was persistent thrown at various angles – until he lulled a larger pugilist to ignore his right so the impact, surprise, momentum added physics power. In 1896, he was one victory away from an anticipated showdown with heavyweight champion, Bob Fitzsimmons. Choynski was knocked out by Irishman Peter Maher to prevent a promoter's dream. Choynski would later be remembered during the 1910 "Fight of the Century" between Black heavyweight champion, Jack Johnson and White undefeated former heavyweight champion, James Jeffries with both of them claiming the hardest they were hit in their boxing career was his ambush right punch. Choynski nailed Jeffries with it during the 16th round which yielded a wild, 20-round Draw. Jeffries tooth was imbedded into his lip with results so painful he would be forced to quit until the tooth was extracted before the start of the 17th round by a knife – blood squirting everywhere. Choynski nailed Johnson with it during the 3rd round of their Texas encounter knocking out the future champion.

'Mexican' Pete Everett (24-6) vs. 'Jewish' Joe Choynski (35-9-5)
Aug. 4, 1899, Denver, Co. --- Non-title bout; it's Everett's turf.

ROUND 6: Choynski dominates – lands left jab to nose – lands left jab to nose – lands left jab to nose – Everett is knocked down twice.
Everett has become increasingly frustrated – intentionally clinches and lands illegal body blows – refuses to break when ordered. It appears Everett feels he will lose – has sort of lost it mentally due to the frustration of Choynski's half hook jabs thrown at unusual angles – sort of desperate and instigating an intentional disqualification.

ROUND 7: Everett is punching illegally to crotch region – forces clinch and lands low blows as he holds – reaches arm around Choynski's neck and lands punches before throwing him violently to ground.
Referee angrily intervenes – disqualifies Everett – awards victory to Choynski. Everett charges ref and throws punch to head – Choynski still on ground – spectators enter ring – police enter ring – Everett attempts to fight spectators who try to fight him.
Choynski rises to feet – police attempt to tackle Everett and spectators – referee moves out of way – Choynski moves out of way – Everett is manhandled and tackled to ground by mass of bodies – all HELL breaking loose as police attempt to regain control and maintain order.

Broads and booze
By 1900, Denver had become a thriving city. The air was clean. They had excellent medical facilities for the West. What was highly appealing to Mexican Pete Everett was its wilder nightlife. Broads and booze – meant for miners following work – were the vices that Everett enjoyed most. He was well-known as the toughest guy in the region.

"Toughest Guy in the Region" was no small honor via mainstream Colorado. Denver, with famed Kansas ex-lawman Bat Masterson, was a hub for boxing during the 1880's – even hosting the colored heavyweight championship during George Godfrey's reign. Longtime undefeated White heavyweight champion, John L. Sullivan would often imbibe and find himself in tavern fights during his 1880's visits. Pete Everett would grow as child through adulthood realizing pugilism was one of the rare Colorado opportunities for travel and a more exciting life beyond mines.

Frank Childs (32-3-7) vs. 'Mexican' Pete Everett (24-10)
Dec. 21, 1900, Denver, Colo -- Non-title bout on Everett's turf. Childs wins 10-round decision.

Tom Sharkey
Tracy Callis, (chief historian, Cyber boxing Zone): "(Age 27, 5'8 ½, 185 pounds) Tom Sharkey was a short, squat battler…. He was powerful, rough and durable….. He was elected to the Ring Boxing Hall of Fame in 1959 and the International Boxing Hall of Fame in 2003."

Tom Sharkey was an aggressive cheater who unsuccessfully attempted, with assistance of Tombstone gunman Wyatt Earp, to rig an 1896 heavyweight title bout – champion Bob Fitzsimmons the victim of that plot. Sharkey claimed Choynski was the best boxer he had ever seen – that he could hear Choynski left jabs when they missed – but this respect did not stop Sharkey from choking Choynski during a bout. Sharkey punched Peter Maher to the back of head between rounds during a bout – leading to both Irishmen being arrested. Sharkey tried to break James Jeffries arm within a clinch during a title bout. The New York Times editorialized that Sharkey single-handed had degraded the sport. Mexican Pete Elliot would probably be the #2 high-profile heavyweight who didn't think much of boxing rules or protocol. Sharkey and Everett battling one another guaranteed a disqualification – only who would cheat first or cross a boundary line one too many times.

'Sailor' Tom Sharkey (40-4-5) vs. 'Mexican' Pete Everett (24-11)
May 7, 1901, Denver, Co. -- Non-title bout on Everett's home turf.
ROUND 1: Pugilists are rough housing while exchanging punches – fairly even round when bell rings – both continue furiously fighting – Sharkey lands low blow as Everett falls to knees.
Sharkey lands punch to head – referee intervention – Sharkey disqualified – awards victory to Everett.

Sharkey's conqueror in chain gang
Colorado Springs (5-29-1901) -- "Mexican 'Pete' Everett, who won fame by defeating Sharkey, is serving a term on the Cripple Creek Chain gang until he shall work out a light fine recently imposed upon him by the Police Magistrate of that place."

Great New York Times headline – as it provides the subject matter of this short essay: Mexican Pete Everett. Hispanics are great enthusiasts of pugilism. I guess it is sort of natural to possess a certain ethnic pride, so it is with a certain hope that a Hispanic heavyweight can sort of rise to a level of excellence to compete with everyone else. But the reality differs than the optimism – so for the historian, Pete Everett stands as an anomaly and lone figure. The nickname and the current web blogs ask the usual question: Why is he called "Mexican" Pete Everett if he is from America?

An innocent question
It is an innocent question – but I must assume these writers are unfamiliar with the West Coast. Everett lived more than a century ago – but even today any brown skinned person is labeled as "Mexican". Hispanics might be from El Salvador, Guatemala, Honduras or the United States. When an American dislikes Hispanics legal or otherwise – they dislike all of us – and they conglomerate the hatred with that single "M word" term: Mexican – Mexico – the nation American tourists visit to degrade then blame on Mexican corruption.

There are many American born citizens of Mexican descent – either through alienation from society – a way of feeling ancestral pride – or not even being analytical or intellectual about it – who casually refer to themselves as "Mexican" rather than American. Mexican Pete Everett may not have felt like an accepted American – or perhaps he did – but that does not make him Mexican. Whoever is reading this – if you do not have friends in Mexico – living in Mexico right now – then you do not know ANYONE who is Mexican. Mexican people live in Mexico. If you know someone born in Mexico – and they live in America today – you DO NOT know anyone who is Mexican.

A search for ethnic heroes of the past
But what does one do as an American Hispanic in search of ethnic heroes from the past for which one can relate? I am of Spanish descent (and Irish, English, Swedish – my family liked to fuck around a lot) so I am sympathetic towards these things. The charming San Ysidro, California border library used to have a poster on the wall (for kids) of various famous Hispanics of public accomplishment for which to emulate and hopefully have pride.

I ponder wistfully at the San Ysidro (allegedly we are American – but really just people on land with others who don't like us – right or wrong) poster with a certain sadness: No President of the United States – no U.S. Supreme Court Justices – no Hispanic has ever lead either house of congress. But if a young person wants to look at sports and pugilism for inspiration – I would pass on "Mexican" Pete Everett in hoping there was more to the man than the scant information that exists. We do have one "Daniel Mendoza" for our very own. Of Portugal descent, he was a writer and thinker – an intellectual who helped define boxing defensive technique and refined the art of pre bout promotion. Mendoza was a key figure in altering the perception of boxing from two guys beating on one another – into a craft and a thinking sport. Our community may not have produced the biggest or strongest pugilist – but we contributed one of the brainiest – and this is something for which all young Hispanics can aspire and be proud.

Denis Ike Hayes
On August 1st, aged 27, Mexican Pete Everett battled an experienced Denis Ike Hayes (22-13-4). Everett was dominant pummeling Hayes until an 8th round knockdown proved too much for Hayes. Although he would continue to professionally prize-fight it would be the famous Colorado Latino heavyweight's final victory. For the moment his boxing record stood at 27-13-0.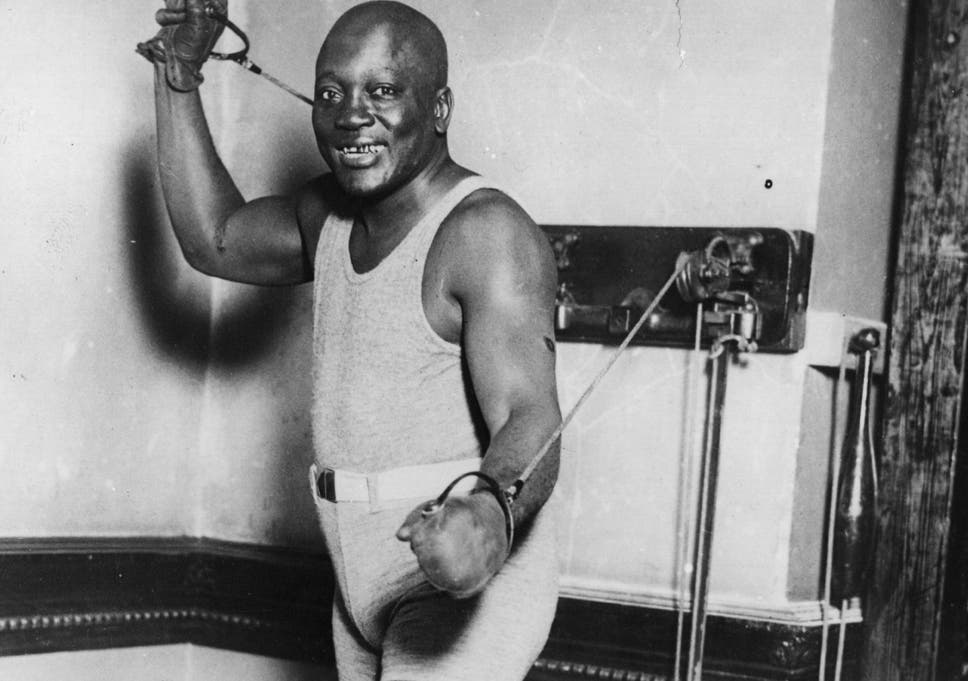 Jack Johnson
Tracy Callis (chief historian, Cyber Boxing Zone): "(Aged 29; 6'0 ½, 187-221 pounds)Jack Johnson is rated as possibly the best heavyweight who ever fought; He was a master on defense and almost flawless in all other aspects of pugilism; He was fast, possessed an outstanding jab and uppercut, and was practically impossible to hit cleanly. Johnson was inducted into the Ring Boxing Hall of Fame in 1954 and the International Boxing Hall of Fame in 1990."
Jack Johnson was the Colored heavyweight champion, Black heavyweight champion and the first unified or integrated champion. His style was defensive pugilist who was patient inside the ring. He laughed and spoke to his opponents trying to gain mental-health advantage. He had physical strength, speed and endurance. Johnson dominated the heavyweight division from 1902-1915.

Jack Johnson (25-4-8) vs. 'Mexican' Pete Everett (27-12)
Sept. 3, 1902, Victor, Co. -- Non-title bout on Everett's turf. Result: Draw. As of 2019, pugilists may only battle 12 rounds, or 47 total minutes. Everett and Johnson battled 79 minutes.

Gus Ruhlin
Tracy Callis (chief historian, Cyber Boxing Zone): *Aged 31; 6'1 ½, 180-200 pounds)
Gus Ruhlin was a talented fighter but erratic – an early day 'Jack Sharkey'; when he was good, he was very good but when he was bad he was awful. He came along at the wrong time – when heavyweights such as Jim Jeffries, Bob Fitzsimmons and Tom Sharkey were in their prime; At any other period in boxing history, he might have received greater respect."
Gus Ruhlin was a gigantic heavyweight who perhaps underperformed for the sake of his historical legacy. He slugged Tom Sharkey senseless while trading defensive boxing victory/defeat with Joe Choynski. Newspapers listed Ruhlin at 6'2, 6'3 or 6'4. He had an opportunity, 1900, to fight for the heavyweight title versus James Jeffries but quit following the 5th round due to interior pain after receiving numerous body blows.

Gus Ruhlin (29-7-3) vs. 'Mexican' Pete Everett (27-13-1)
March 9, 1903, Philadelphia, Pa -- Ruhlin wins by second-round KO.

The Day (3/13/1903): "Pete Everett, who has always had the reputation of being a quitter, will get no more matches in Philadelphia on account of his showing against Ruhlin the other night in that city."

Pancho Villa: "Yo no soy Catolico, no Protestante, no ateo. Soy librepen sador."

Harry Wills
Harry Wills is best remembered as the best Black heavyweight of the 1920's denied the opportunity for a title bout by the White heavyweight champion, Jack Dempsey.

Harry Wills (15-1-4) vs. 'Mexican' Pete Everett (27-18-1)
Oct. 2, 1914, Sonora, Mexico -- Everett loses by second-round KO.
Everett's next stage in public life was public arrests for vagrancy. Booze became his wife and his life.

On June 1st, 2019, after being knocked down in the 3rd round by undefeated heavyweight champion Anthony Joshua (22-0-0), tubby 'el gordo' Andy Ruiz Jr. (32-1-0) (aka/"Rocky Mexicano") from Imperial, California shocked the world by rising to feet and knocking down the much larger Joshua twice – with two more knockdowns in the 7th round until Joshua could not continue (TKO) – thus Ruiz Jr. became the first heavyweight champion of Mexican descent.


Colorado's best heavyweight
Mexican Pete Everett's officially concludes as 27-19-1. He was the best heavyweight from Colorado during the latter 1890's. He never fought for the heavyweight title but fought many of the best – and if not a contender – certainly a 'name' with presence. He punched hard while resulting to rough-house tactics when he did not obtain the desired early-round knockout. Everett was Latino heavyweight when few such men existed. Is Everett a role model for Latin community? No. He displayed fear versus James Jeffries – unforgiveable within our "Machismo" values.

But Mexican Pete Everett serves as a metaphor for a man or woman trying to survive that horrible 19th century American economic slump and fires that destroyed many of those around him. He lied, cheated and stole – hit anyone in his way until someone more serious returned violence. He battled Jack Johnson, James Jeffries, Frank Childs, Joe Choynski and Gus Ruhlin. He lost more than he won throughout his toughest battles – earning money that he quickly spent – met some great looking women that paid him attention – everyday people liked him more than hated. The "Paper of (American) Record", New York Times, recognized his fame, if only to report his whereabouts on a Cripple Creek chain-gang. Mexican Pete Everett never gave a damn about life; but then LIFE never gave a damn about him.