Is lightweight contender Dannie Williams of St. Louis Missouri on the rise? If you watched last weeks episode of Friday Night Fights then you will have your answer.
Williams (19-1, 15 knockouts) blasted onto the scene with an explosive fourth round knockout over unheralded Antonio Cervantes (16-6-5, 11 KOs) of Mexico at the Ameristar Hotel and Casino in St. Charles, Mo. in the co-feature for the Kermit Cintron-Antoine Smith light middleweight bout.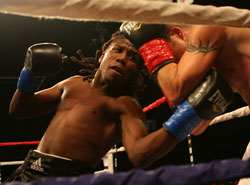 Not only was his knockout the fight of the evening it also made ESPN's Sports Center top 10 plays of the night on Friday.
Typically Teddy Atlas is an "expert" commentator for the popular series, but he was in Russia training heavyweight contender Alexander Povetkin. Instead, future hall-of-famer Bernard Hopkins called the fights with regular analyst Joe Tessitore. And man did Atlas miss a show or should I say a chance to criticize another Midwest fighter!
Williams, 26, has rattled off seven wins with five knockouts since his lone defeat at super featherweight against WBO no. 4 ranked Eloy Perez back in September of 2009. A fight in which Williams put Perez on the canvas twice only to suffer a knock down himself before losing a 10-round unanimous decision.
DIVORCE BY FORCE
Travis Hartman was a celebrated amateur star who
was feeling rejuvenated as a pro when a car wreck
put him indefinitely on the shelf as an active fighter.
Read Ross Martin's feature story on the withdrawal pains
Hartman feels during his separation from the sport he loves.
CLICK HERE
Perez, 24, says he is happy that Williams is winning. He admits that it makes his win over him look that much better.
"I will say that Williams winning helps my resume," Perez told boxingscene.com. "All the guys I beat don't get far after I beat them, but I hope that Dannie Williams keeps winning because he is going to make me look better each time he does."
Williams has not fought at super featherweight, (130 pounds) since his loss to Perez, claiming that he was weight drained for the fight.
In the midst of the original televised portion of the night fans were also treated to a six-round swing bout because of Williams' early knockout. Two undefeated light welterweight Missouri fighters battled showcasing that the Midwest indeed does have talent and is not subject to the always criticizing Atlas stereotype. It was a non typical swing bout that actually pitted two very talented fighters. Keandre Gibson knocked down Lawrence Hughes twice en route to a six-round unanimous decision. Although Gibson won the bout it was clear that Hughes is no slouch and the fight was a very entertaining swing bout unlike most overmatched swing bouts on ESPN's Friday Night Fights.
"Sports do not build character. They reveal it."
--John Wooden